Au… Chronische gewrichtspijn!
In Nederland hebben ruim 3 miljoen mensen last van artrose en reumatoïde artritis. Deze aandoeningen gaan veelal gepaard met chronische gewrichtspijn. Het is daarom zeker belangrijk te leren hoe met pijnklachten omgegaan kan worden.
Waar komt die pijn vandaan?
Pijn die drie maanden of langer aanhoudt wordt aangemerkt als 'chronische pijn'. Bij artrose heeft de pijn een andere oorzaak dan bij reumatoïde artritis.
Artrose is een ziekte waarbij het kraakbeen in de gewrichten verslechtert. Er komen dan afgebrokkelde kraakbeenfragmenten in de gewrichtsvloeistof terecht. Daardoor raakt het slijmvlieslaagje aan de binnenkant van het gewrichtskapsel ontstoken. Dit resulteert in pijn, zwellingen en stijfheid van het gewricht. Op de langere termijn ontstaan er 'kale' plekken op de botten in het gewricht, die tijdens het bewegen over elkaar gaan wrijven. Dit 'bot-op-bot' contact kan tijdens het belasten en bewegen van het gewricht als zeer pijnlijk ervaren worden.
Reumatoïde artritis is een auto-immuunziekte. Door een storing in het afweersysteem worden specifieke eiwitten aangemaakt die ontstekingen veroorzaken in pezen, spieren en gewrichtskapsel. Als gevolg daarvan gaat het slijmvlies meer vocht aanmaken en ontstaan er zwellingen. Daardoor neemt de pijn in de gewrichten verder toe. Uiteindelijk kan ook het kraakbeen worden aangetast door de ontstekingsprocessen die zich continu in de gewrichten afspelen.
Specifieke aminozuren helpen
De kans is aanwezig dat paracetamol na verloop van tijd niet meer (voldoende) werkt of dat door de vele bijwerkingen noodgedwongen gestopt moet worden met het gebruik van NSAIDs. Dan is het aan te raden om ook eens serieus te kijken naar alternatieven om de pijn te bestrijden. Een dergelijk alternatief zijn aminozuurverbindingen die met een stevige opmars bezig zijn en zonder recept verkrijgbaar zijn.
Recent onderzoek (In vivo), uitgevoerd aan de universiteit van Rochester Medical Center (USA), bevestigt de unieke voordelen van specifieke aminozuren in ondersteuning van gezonde gewrichten door regeneratie (vernieuwing) van kraakbeen en zijn belangrijke ontstekingsremmende werking¹.
Ook uit andere studies is gebleken dat specifieke aminozuren de aanmaak van nieuw kraakbeen bevorderen. Een van deze studies, liet een toename van kraakbeen in de Aminozuren-groep zien (in knieën), tegen een afname van kraakbeen in de Placebogroep, dit alles gedurende een periode van 24 weken gedetailleerd in kaart gebracht met behulp van magnetische resonantie beelden².
Lees meer over deze aminozuren…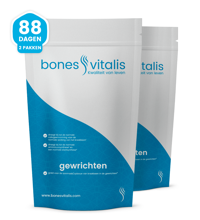 Bones Vitalis Gewrichten
Aminozuur- en eiwitsynthese
In voeding zitten eiwitten. Eiwitten bestaan uit aminozuren. Bij de spijsvertering worden de aminozuren onder invloed van enzymen, uit voeding vrijgemaakt. De aminozuren worden via de darmhaarvaten en de poortader naar de lever gevoerd. Een deel van de aminozuren zal de lever onveranderd verlaten, een deel zal in de lever worden omgezet in andere aminozuren (transaminering).
Uit de vrijgekomen aminozuren kan het organisme zijn eigen specifieke eiwitten opbouwen. De aminozuurverbindingen stimuleren de cellen om nieuwe eiwitten (collageen) aan te maken en op te bouwen. Bindweefsel als botten, spieren, pezen, kraakbeen (fibreus), gewrichtsbanden, gewrichtskapsel, gewrichtskraakbeen (hyalien), bestaan grotendeels uit collageen. Het aanmaken (de synthese) van eiwitten binnen een organisme wordt eiwitsynthese genoemd.
Eiwitsynthese nader bekeken
In bindweefsel is de fibroblast de actieve cel, waaraan ribosomen hechten die zorgen voor de eiwitsynthese. In het gewrichtskraakbeen is de chondroblast hiervoor verantwoordelijk, in botweefsel de osteoblast (chondroblasten en osteoblasten zijn feitelijk gespecialiseerde fibroblasten).
Chrondoblasten produceren de actieve vorm van de kraakbeencellen, aangezien ze alle componenten van de kraakbeenmatrix kunnen synthetiseren (chrondoblasten zijn voorlopers van de chondrocyten, de eigenlijke kraakbeencellen).
Osteoblasten maken de organische bestanddelen van de botmatrix. Osteoblasten produceren collageen, proteoglycanen en glycoproteÏnen (osteoblasten transformeren tot osteocyten, de meeste voorkomende cellen in het botweefsel).
Fibroblasten zijn de belangrijkste cellen van het bindweefsel. Fascie is een bijzonder bindweefsel dat ligt rond spieren, botten en gewrichten. Fascie is één van de drie soorten bindweefsel. De andere twee zijn: gewrichtsbanden (ligamenten) en pezen. Fibroblasten zijn verantwoordelijk voor de synthese van alle elementen van de extracellulaire matrix; dus zowel het collageen (niet elastische vezel die zorgt voor de stevigheid van het weefsel), elastische en reticulaire vezels als de glycosaminoglycanen en de glycoproteïnen van de grondsubstantie (matrix).
Genoemde aminozuren (eiwitten) zijn te verkrijgen als voedingssupplementen en worden als levensmiddel geclassificeerd. Ze hebben dan ook – afgezien van eventuele voedselallergie of voedselintolerantie – geen bijwerkingen. Lees meer over deze supplementen…
[1] Voetnoot studies
Dar Q.A. et al. 2014, Oral hydrolysed type I collagen induces chondroregeneration and inhabits synovial inflammation in murine posttraumatic osteoarthritis, Osteoarthritis and Cartilage. DOI: http://dx.doi.org/10.1016/j.joca.2016.01.976. Open access funded by OsteoArthritis Research Society International (OARSI).
[2] Voetnoot studies
T.E. McAlindon 2011, Change in knee osteoarthritis cartilage detected by delayed gadolinium enhanced magnetic resonance imaging following treatment with collagen hydrolisate: a pilot randomized controlled trial. 2011 Apr;19(4):399-405. doi: 10.1016/j.joca.2011.01.001. Epub 2011 Jan 18. Open access funded by OsteoArthritis Research Society International (OARSI).
Jiang, et al. 2014. Treatment of Knee Osteoarthritis: A Double-Blind Randomized, Placebo-Controlled Study. Agro Food Industry Hi Tech 25(2): 20–21.