Minder kans op knieartrose bij gewichtsverlies…
Circa 6,5 miljoen mensen in Nederland hebben in mindere of meerdere mate overgewicht. Dat overgewicht de kans op artrose vergroot is al langer bekend.
Uit onderzoek (PROOF-studie, sept. 2013) van bewegingswetenschapper Jos Runhaar (Erasmus MC) blijkt dat als te zware vrouwen tussen de 50 en 60 jaar vijf kilo afvallen de kans op het krijgen van artrose aan de knie vermindert met 25 procent [1]. Een beetje afvallen helpt dus al! De bevinding dat een relatief kleine gewichtsreductie al bijdraagt aan het voorkomen van artrose, een aandoening die de samenleving ca. 715 miljoen euro per jaar kost, is meer dan goed nieuws, niet alleen voor deze groep vrouwen, maar voor iedereen.
Zorg dus voor het goede gewicht en evenwichtige en gezonde voeding. Overgewicht verhoogt het risico op het ontwikkelen van artrose, met name knieartrose. Het dragen van extra gewicht verhoogt de stress op de gewrichten. Overgewicht zorgt voor extra druk op de gewrichten van knieën, rug, heupen, enkels en voeten. Door af te vallen naar een gezond gewicht, kunnen symptomen als pijn en stijfheid worden verlicht. Kies voor voeding dat rijk is aan mineralen, vitaminen, oliën en antioxidanten. Zo is bekend, dat Omega3 vetzuren uit vette zeevis kunnen helpen bij het verminderen van ontstekingen en dat vitamine C bijdraagt tot het behoud van gezond kraakbeen.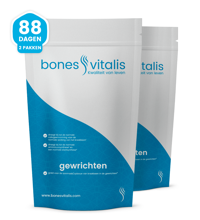 Bones Vitalis Gewrichten
Aminozuren
Consumptie van uitgekiende aminozuurverbindingen (eiwitten), vitaminen, mineralen zal er toe bijdragen dat ons lichaam volop wordt voorzien van bouwstenen, die goed zijn voor de aanmaak van kraakbeen in de gewrichten en van belang zijn voor de normale vorming van bindweefsel in kraakbeen en botten (mangaan). In de onderstaande klinische studies [2]  is bevestigd dat een dagelijkse inname van aminozuren (ca. 8g), een positief effect had op gewrichtspijn reductie en de gewrichtsfunctionaliteit verbeterde.
Aminozuren zijn als voedingssupplement te verkrijgen. Voedingssupplementen worden als levensmiddel geclassificeerd. Ze hebben dan ook – afgezien van eventuele voedselallergie of voedselintolerantie – geen bijwerkingen.
[1] Voetnoot Studies
The role of diet and exercise and of glucosamine sulfate in the prevention of knee osteoarthritis: Further results from the PRevention of knee Osteoarthritis in Overweight Females (PROOF) study, Jos Runhaar(PhD)
[2] Voetnoot Studies
Ragle, R.L., and Sawitzke, A.D., 2012, Nutraceuticals in the management of osteoarthritis: a critical review, Drugs Aging, 29(9): 717–731.
Jiang JX. et al. (2013). Treatment of knee osteoarthritis: A double-blind, randomized, placebo-controlled study. Agro FOOD Industry Hi Tech, Vol 25(2):19-23.
Oesser, S. et al. (2003). Stimulation of Type II Collagen Biosynthesis and Secretion in Bovine Chandrocytes Cultured with Degraded Collagen. Cell Tissue Research, 311: 393-399.