Handartrose voorspelt artrose in andere gewrichten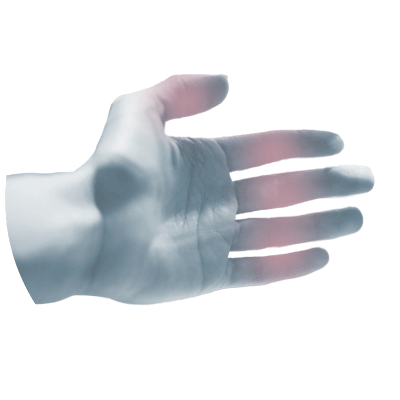 In Nederland komen jaarlijks 100.000 patiënten bij de huisarts vanwege artrose in de hand. Voor artrose in de knie of de heup ligt dit aantal driemaal zo hoog. Tot nog toe was het niet volledig duidelijk of artrose in de hand inderdaad het ontwikkelen van artrose elders in het lichaam kon voorspellen. De onderstaande studie toont aan dat dat wel het geval is.
Artrose is een kraakbeen- en gewrichtsaandoening waarbij men bij beweging last kan hebben van een bepaald gewricht. In het geval van artrose kan dit gewricht stijf of stram aanvoelen. De aandoening ontstaat door een verminderde aanmaak van gewrichtskraakbeen. Er wordt minder kraakbeen aangemaakt dan dat er verloren gaat, waardoor er slijtage ontstaat. Door de slijtage en de verminderde aanmaak van schokabsorberende vloeistof kunnen botten langs elkaar heen schuren. Dit zorgt ervoor dat gewrichten als handen, knieën, schouders, nek en heupen pijnlijk kunnen aanvoelen.
Uit onderzoek, uitgevoerd door promovenda Saeede Dahaghin aan de Erasmus Universiteit, is gebleken dat mensen met handartrose een tweemaal grotere kans lopen om slijtage in andere gewrichten te ontwikkelen dan mensen zonder handartrose.
Dahaghin bestudeerde gedurende zes jaar, 1235 personen van 55 jaar of ouder die nog geen artrose in de heup of knie hadden. In deze periode ontwikkelde 20% van de mensen met handartrose, ook artrose in de knie of in de heup. Bij mensen die niet aan artrose leden, lag dit percentage op 10%.
Uit hetzelfde onderzoek is gebleken dat patiënten met handartrose èn overgewicht, zelfs een drie keer grotere kans hadden om artrose te ontwikkelen in de knie of heup. Patiënten met artrose in de handen waarin de familie artrose voorkomt hebben zelfs een vier maal grotere kans, aldus Dahagin [1].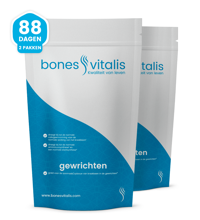 Bones Vitalis Gewrichten
Wat kunt u zelf doen
In 2015 kregen naar schatting 52.800 mensen de diagnose knieartrose van de huisarts: 19.100 mannen en 33.700 vrouwen. Knieartrose is daarmee de meest voorkomende artrose. In hetzelfde jaar werd de diagnose van artrose aan overige ledematen 52.400 keer gesteld. Bij vrouwen (36.700) twee keer zo vaak dan bij mannen (15.700). De diagnose heupartrose werd in totaal 34.800 gesteld.
Blijf bewegen
Belangrijk is dat u actief blijft om zo de spieren en pezen flexibel te houden. Veel studies tonen aan dat lichamelijke activiteit één van de beste manieren is om uw kwaliteit van leven te verbeteren. Beweging is dan ook cruciaal om gewrichtspijn te kunnen beheersen. Ga bijvoorbeeld fietsen, wandelen of zwemmen, zo versterkt u de spieren rondom de aangetaste gewrichten
Eet gezond
Een evenwichtige en gezonde voeding is belangrijk voor een gezond lichaam. Een voedingspatroon dat rijk is aan mineralen, vitaminen, oliën en antioxidanten is belangrijk hierbij. Zo is bekend, dat Omega3 vetzuren uit vette zeevis kunnen helpen bij het verminderen van ontstekingen en dat vitamine C bijdraagt tot het behoud van gezond kraakbeen.
Een goed gewicht en een goede nachtrust
Zorg voor het goede gewicht en een goede nachtrust. Overgewicht verhoogt het risico op het ontwikkelen van artrose, met name knieartrose. Het dragen van extra gewicht verhoogt de stress op de gewrichten. Overgewicht zorgt voor extra druk op de gewrichten van uw knieën, rug, heupen, enkels en voeten. Door af te vallen naar een gezond gewicht, kunnen symptomen als pijn en stijfheid worden verlicht. Bij gewrichtspijn is een goede nachtrust belangrijk. Probeer in een comfortabele positie te liggen en leg zo nodig een kussen onder het pijnlijke gewricht.
Wat kunt u nog meer zelf doen
In voeding zitten eiwitten. Eiwitten bestaan uit aminozuren. Bij de spijsvertering worden deze aminozuren onder invloed van enzymen, uit voeding vrijgemaakt. Specifieke aminozuren zijn in 2014 uitgebreid getest op het regeneratie-effect op kraakbeenweefsel en aantoonbaar effect op het verminderen van gewricht ongemak en stijfheid [2].
Uit de Atlantic Bone studie, eveneens uit 2014, blijkt wederom dat genoemde aminozuurverbinding de aanmaak van nieuw kraakbeen bevordert [3], welke conclusies een herbevestiging zijn van het onderzoek van [4] T.E. McAlindon uit 2011.
Deze uitgekiende aminozuren zijn nu als voedingssupplement verkrijgbaar.
[1] Voetnoot studies
Saeede Dahaghin, 2005. Hand Osteoartritis. Epidemiologie en klinische consequentie, Erasmus University Rotterdam.
[2] Voetnoot Studies
Jiang, et al. 2014. Collagen Peptides for  Treatment of Knee Osteoarthritis: A Double-Blind Randomized, Placebo-Controlled Study. Agro Food Industry Hi Tech 25(2): 20–21.
[3] Voetnoot Studies
Atlantic Bone Screen, France. Jiang, et al. 2014. Treatment of Knee Osteoarthritis: A Double-Blind Randomized, Placebo-Controlled Study. Agro Food Industry Hi Tech 25(2): 20–21.
[4] Voetnoot Studies
T.E. McAlindon et al., 2011, Change in knee osteoarthritis cartilage detected by delayed gadolinium enhanced magnetic resonance imaging following treatment with collagen hydrolisate: a pilot randomized controlled trial.