Huisarts herkent spondyloartritis (o.a. ziekte van Bechterew) niet of nauwelijks!
Huisartsen hebben moeite spondyloartritis (o.a. de ziekte van Bechterew) te herkennen en ondernemen daardoor vaak niet de juiste actie. Hierdoor worden patiënten, die relatief jong getroffen worden door deze pijnlijke reumatische aandoening, onnodig laat doorverwezen naar de reumatoloog; een vertraging in de diagnose die kan oplopen tot wel tien jaar. Dit en meer blijkt uit onderzoek van het Maastricht UMC [1].
Het niet herkennen van de ziekte van Bechterew, oftewel spondylitis ankylopoetica, kan een grote negatieve impact hebben op de kwaliteit van leven, stelt onderzoeker Marloes van Onna: "Patiënten lopen jaren rond met pijn. Sommigen verliezen zelfs hierdoor hun baan."
Van Onna (reumatologe) stuurde twaalf acteurs langs bij bijna 70 huisartsen en huisartsen in opleiding. Tijdens het consult deden de acteurs alsof zij Bechterew-klachten hadden, bijvoorbeeld: lage rugpijn en stijfheid, een langdurige gewrichtsontsteking van een knie of chronische pijn met stijfheid, vooral rond de heupen, in de bilstreek en lage rug. Slechts in 7% van de gevallen werd doorverwezen naar een reumatoloog.
De nietsvermoedende huisartsen (in opleiding) kregen drie maanden later een voordracht over reumatische aandoeningen, waaronder de ziekte van Bechterew. Toen de acteurs enkele weken later opnieuw het spreekuur bezochten, kreeg 77% van deze 'zogenaamd zieken' een doorverwijzing mee. Een van de conclusies van het onderzoek is dan ook dat extra scholing duidelijke effecten heeft om symptomen beter te herkennen. De resultaten van het onderzoek zijn verschenen in het wetenschappelijk tijdschrift 'Rheumatic & Musculoskeletal Diseases'.
Blijf bewegen!
De ziekte verloopt bij iedereen verschillend, maar iedereen met de ziekte van Bechterew heeft last van stijfheid en pijn laag in de rug. De klachten kunnen zich uitbreiden naar borstkas en nek en eventueel naar heupgewrichten, knieën en andere gewrichten. Door de ontsteking raken kraakbeen en bot beschadigd.
Te veel rust zal de klachten van deze ziekte doen verergeren. Bewegen en oefeningen doen is een van de belangrijkste onderdelen bij behandeling van de ziekte van Bechterew. Door in beweging te blijven wordt beweeglijkheid, spierkracht en algemene conditie langer op pijl gehouden. Daarnaast is het goed om regelmatig oefeningen te doen om de mobiliteit te verhogen en de houding te verbeteren, bewegen zal de klachten doen afnemen!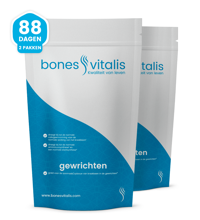 Bones Vitalis Gewrichten
Wat kunnen aminozuren betekenen
In vivo onderzoek uitgevoerd aan de universiteit van Rochester Medical Center (USA), bevestigt de unieke voordelen van aminozuren in ondersteuning van gezonde gewrichten door regeneratie van kraakbeen en zijn belangrijke anti-inflammatoire (ontstekingsremmende) werking.[2]
Een grote hoeveelheid wetenschappelijke studies [3] bevestigt de werkzaamheid van aminozuren, die het bindweefsel ondersteunen en gezonde gewrichten bevorderen. Deze gegevens omvatten in-vitro, in vivo en meervoudige placebo-gecontroleerde klinische studies.
In de onderstaande klinische studies [4] is bevestigd dat dagelijkse inname van aminozuren (ca. 8g) een positief effect had op gewrichtspijn reductie en de gewrichtsfunctionaliteit verbeterde.
Aminozuren zijn als voedingssupplement te verkrijgen. Voedingssupplementen worden als levensmiddel geclassificeerd. Ze hebben dan ook – afgezien van eventuele voedselallergie of voedselintolerantie – geen bijwerkingen.
[1] Voetnoot Studies
Marloes van Onna et al. 2015, Education improves referral of patients suspected of having spondyloarthritis by general practitioners: a study with unannounced standardised patients in daily practice. Rheumatic & Musculoskeletal Diseases, September 18, 2015.
[2] Voetnoot Studies
Dar Q.A. et al. 2014, Oral hydrolysed type I collagen induces chondroregeneration and inhabits synovial inflammation in murine posttraumatic osteoarthritis , Osteoarthritis and Cartilage. 24:5532-5533.
[3] Voetnoot Studies
Henrotin Y. et al., 2011. Nutraceuticals: do they represent a new era in the management of osteoarthritis? – a narrative review from the lessons taken five products. Osteoarthritis and Cartilage, 19: 1-21.
Moskowitz, R., 2000. Role of collagen hydrolysate in bone and joint disease. Seminars in Arthritis and Rheumatism, 30: 87-99.
Jiang, et al. 2014. Collagen Peptides for Treatment of Knee Osteoarthritis: A Double-Blind Randomized, Placebo-Controlled Study. Agro Food Industry Hi Tech 25(2): 20–21.
Van Vijven J.P.J. et al., 2012. Symptomatic and chondroprotective treatment with collagen derivatives in osteoarthritis: a systematic review. Osteoarthritis and Cartilage, 20: 809-821.
Ragle R.L. et al., 2012. Nutraceuticals in the management of osteoarthritis: a critical review. Drugs & Aging, 29: 717-731.
Benito-Ruiz P. et al., 2009. A randomized controlled trial on the efficacy and safety of a food ingredient, collagen hydrolysate, for improving joint comfort. International Journal of Food Sciences and Nutrition, 60:99-113.
Clark, K.L. et al., 2008. 24-Week study on the use of collagen hydrolysate as a dietary supplement in athletes with activityrelated joint pain. Current Medical Research and Opinion, 24: 1485-1496.
[4] Voetnoot Studies
Ragle, R.L., and Sawitzke, A.D., 2012, Nutraceuticals in the management of osteoarthritis: a critical review, Drugs Aging, 29(9): 717–731.
Jiang JX. et al. (2013). Treatment of knee osteoarthritis: A double-blind, randomized, placebo-controlled study. Agro FOOD Industry Hi Tech, Vol 25(2):19-23.
Oesser, S. et al. (2003). Stimulation of Type II Collagen Biosynthesis and Secretion in Bovine Chandrocytes Cultured with Degraded Collagen. Cell Tissue Research, 311: 393-399.