Klinische Studie vrouwen (40-70 jaar) met pijn aan kniegewricht
Artrose komt bij vrouwen bijna twee keer zo vaak voor als bij mannen. Aangezien artrose vooral bij het ouder worden optreedt, is het de verwachting dat het percentage mensen met artrose de komende decennia flink zal toenemen in verband met de vergrijzing. Ook zijn er veel mensen met overgewicht, en in het algemeen bewegen we te weinig: het is bekend dat deze factoren de kans op artrose heel sterk beïnvloeden.
Kraakbeen beschermt de botstukken van een gewricht tegen beschadigingen en zorgt voor soepele, pijnvrije bewegingen. Studie uit 2014 [1] toont aan dat de behandeling van artrose met o.a. aminozuren zeer effectief blijkt te zijn. Aminozuren, vitaminen en mineralen zijn goed zijn voor de aanmaak van kraakbeen (in de gewrichten), spelen een rol bij de botaanmaak en zijn van belang zijn voor de normale vorming van bindweefsel in kraakbeen en botten (eiwitten/mangaan).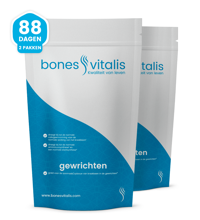 Bones Vitalis Gewrichten
Vrouwelijke deelnemers (40-70 jaar)
In deze klinische studie [1], dosering: ofwel 8g collageen aminozuurverbinding of placebo per dag gedurende 6 maanden, bevestigen vrouwelijke deelnemers (40-70 jaar), lijdend aan kniegewricht pijn of ongemak, significant lagere pijnscores aan het einde van de studie. Ter vergelijking, werd geen significante verandering getoond in de placebogroep. De evaluaties waren gebaseerd op twee gevestigde methoden, de WOMAC score (meet gewrichtspijn en gewrichtsfunctie in het dagelijks leven) en de Lysholm score (evalueert de kniegewricht functie bij lopen, mank lopen, springen en traplopen).
In klinische studies [2] is voorts bevestigd dat dagelijkse inname van collageen aminozuurverbinding (ca. 8g), een positief effect had op gewrichtspijn reductie en de gewrichtsfunctionaliteit verbeterde.
[1] Voetnoot Studies
Jiang, et al. 2014. Treatment of Knee Osteoarthritis: A Double-Blind Randomized, Placebo-Controlled Study. Agro Food Industry Hi Tech 25(2): 20–21.
[2] Voetnoot Studies
Jiang JX. et al. (2013). Treatment of knee osteoarthritis: A double-blind, randomized, placebo-controlled study. Agro FOOD Industry Hi Tech, Vol 25(2):19-23.
Benito-Ruiz P. et al., 2009. A randomized controlled trial on the efficacy and safety of a food ingredient,collagen hydrolysate, for improving joint comfort. International Journal of Food Sciences and Nutrition, 60:99-113.