Link tussen slecht slapen en fibromyalgie
Onderzoekers uit Noorwegen hebben een verband gevonden tussen slaapproblemen en verhoogd risico op fibromyalgie bij vrouwen, dit blijkt uit het onderzoek van de Norwegian University of Science and Technology [1]. Het risico op fibromyalgie neemt toe met de ernst van de slaapproblemen.
Door middel van enquêtes en onderzoeken hebben de wetenschappers de gezondheid van 12.350 vrouwen geanalyseerd. Binnen deze groep bleek bij oudere vrouwen en vrouwen van middelbare leeftijd het effect van slecht slapen groter te zijn dan bij jongere vrouwen.
In de aanvangsfase van het onderzoek waren alle vrouwen gezond, maar na tien jaar hebben 327 vrouwen fibromyalgie ontwikkeld. Dit gebeurde vaker bij vrouwen die slaapproblemen rapporteerden.
Het effect was het grootst bij vrouwen van boven de 45 jaar. Uit de bevindingen blijkt een sterk verband tussen slaapproblemen en het risico op fybromyalgie. Bij vrouwen die aangaven vaak slecht te slapen ontstond vaker fibromyalgie dan bij vrouwen die nooit slaapproblemen hebben, aldus wetenschapper drs. Paul Mork.
De auteurs suggereren dat verdere studies nodig zijn om te onderzoeken of vroege detectie en behandeling van slaapstoornissen het risico op fibromyalgie bij vrouwen vermindert.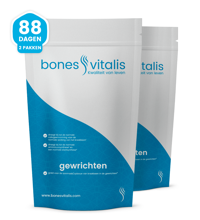 Bones Vitalis Gewrichten
Wat kunnen aminozuren betekenen
Fibromyalgie is een niet-gewrichtsgebonden ziektebeeld. Het valt in de categorie wekedelenreuma. De aandoening kenmerkt zich door spierstijfheid, pijn in gewrichten, chronische vermoeidheid en slaapproblemen. Fibromyalgie patiënten kunnen 's nachts wakker worden van de pijn of moeilijk in slaap komen door de pijn.
In een klinisch studie is bevestigd dat een dagelijkse inname van aminozuren (ca. 8g collageen peptiden), een positief effect had op gewrichtspijn reductie en de gewrichtsfunctionaliteit verbeterde [2], terwijl in een andere studie de gunstige effecten van aminozuren is bevestigd ter zake behoud van gezonde gewrichten en het verminderen van pijn [3].
Aminozuren zijn als voedingssupplement te verkrijgen. Voedingssupplementen worden als levensmiddel geclassificeerd. Ze hebben dan ook – afgezien van eventuele voedselallergie of voedselintolerantie – geen bijwerkingen.
Fibromyalgie komt bij 1 tot 2 procent van de bevolking voor. Fibromyalgie komt het meest voor bij vrouwen (ongeveer 90 procent van de patiënten is vrouw). Het syndroom openbaart zich meestal tussen het 25e en 40e levensjaar.
[1] Voetnoot studies
Mork PJ, et al, Sleep problems and risk of fibromyalgia: longitudinal data on an adult female population in Norway, Norwegian University of Science and Technology, Arthritis Rheum. 2012 Jan; 64(1):281-4. doi: 10.1002/art.33346.
[2] Voetnoot studies
Benito-Ruiz P. et al., 2009. A randomized controlled trial on the efficacy and safety of a food ingredient, collagen peptides, for improving joint comfort. International Journal of Food Sciences and Nutrition, 60:99-113.
[3] Voetnoot studies
Oesser, S. et al. (2003). Stimulation of Type II Collagen Biosynthesis and Secretion in Bovine Chandrocytes Cultured with Degraded Collagen. Cell Tissue Research, 311: 393-399.