Nieuwe knie of heup… stoppen met roken blijkt het beste!
Komt u binnenkort in aanmerking voor een totale knie– of heupvervangende operatie dan blijkt uit onderzoek van het Rothman institute en de Thomas Jefferson University in Philadelphia [1] dat stoppen met roken het beste is. De studie laat zien dat bij rokers het risico op infecties toeneemt, waardoor rokers met een gewrichtsprothese (heup en/of knie) een significant verhoogd risico lopen op een herhalingsoperatie binnen 90 dagen.
in de periode van 2000 tot en met 2014 zijn 15.264 patiënten onderzocht die een gewricht vervangende operatie moesten ondergaan. In deze periode werden 8917 heupprotheses geplaatst en 8477 knieën vervangen. De patiënten (6.749 mannen en 8.515 vrouwen) werden onderverdeeld in drie verschillende groepen: huidige rokers, voormalige rokers en niet rokers waarbij ergo het verband tussen de hoeveelheid roken en de kans op een herhalingsoperatie binnen 90 dagen werd onderzocht.
De bovenstaande studie heeft aangetoond dat de huidige rokers niet alleen een significant verhoogd risico hebben op herhalingsoperatie door infectie binnen 90 dagen na de chirurgische ingreep in vergelijking met niet-rokers, maar ook dat de hoeveelheid die men heeft gerookt, ongeacht de huidige rookstatus, ​​significant bijdraagt aan het verhoogde risico op een herhalingsoperatie. Meer weten over de facts & figures van deze studie, lees hier verder.
Stoppen met roken draagt dus bij aan gezonde gewrichten omdat het risico op infecties afneemt.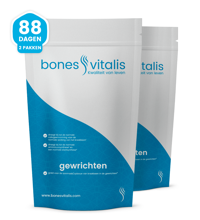 Bones Vitalis Gewrichten
Gezonde gewrichten!
In vivo onderzoek uitgevoerd aan de universiteit van Rochester Medical Center (USA), bevestigt de unieke voordelen van aminozuren in ondersteuning  van gezonde gewrichten door regeneratie van kraakbeen en zijn belangrijke ontstekingsremmende werking [2].
Meerdere studies hebben de gunstige effecten van deze specifieke aminozuren bevestigd ter zake behoud van gezonde gewrichten en het verminderen van pijn [3], terwijl in weer andere studies is bevestigd dat de combinatie van deze specifieke aminozuren, degeneratie van het gewricht helpt te voorkomen en pijn helpt te verminderen [4].
Ontdek meer over deze aminozuren…
1. Voetnoot Studies
Tischler, Eric H. BA et al. (2017). Smoking Increases the Rate of Reoperation for Infection within 90 Days After Primary Total Joint Arthroplasty. Journal of Bone & Joint Surgery – American Volume: 15 February 2017 – Volume 99 – Issue 4 – p 295–304; doi: 10.2106/JBJS.16.00311.
2. Voetnoot Studies
Dar Q.A. et al. 2014, Oral hydrolysed type I collagen induces chondroregeneration and inhabits synovial inflammation in murine posttraumatic osteoarthritis , Osteoarthritis and Cartilage. 24:5532-5533.
3. Voetnoot Studies
Oesser, S. et al. (2003). Stimulation of Type II Collagen Biosynthesis and Secretion in Bovine Chandrocytes Cultured with Degraded Collagen. Cell Tissue Research, 311: 393-399.
Oesser, S., et al. (1999). Oral Administration of 14C Labelled Gelatine Hydroslysate. Journal of Nutrition, 129: 1891-1895.
4. Voetnoot Studies
Van Vijven, J.P.J. et al., 2012, Symptomatic and chondroprotective treatment with collagen derivatives in osteoarthritis: a systematic review, Osteoarthritis and Cartridge, 20(8): 809-821.
Ragle, R.L., and Sawitzke, A.D., 2012, Nutraceuticals in the management of osteoarthritis: a critical review, Drugs Aging, 29(9): 717–731.