Bloedonderzoek nuttig bij ontstekingsreuma!
Om te bepalen of er sprake is van ontstekingsreuma, kan bloedonderzoek helpen bij het stellen van de juiste diagnose. In bloed kunnen namelijk stoffen aanwezig zijn die mogelijk op een auto-immuunaandoening wijzen. Als een bloedonderzoek een 'positieve' uitslag heeft, betekent het dus dat er wellicht sprake is van een vorm van reuma. De uitkomsten van alle onderzoeken bij elkaar vormen de uiteindelijke diagnose. Van welke exacte vorm van reuma sprake is, is niet via bloedonderzoek te vinden.
Bij ontstekingsreuma gaat het om aandoeningen die worden gekenmerkt door langdurige gewrichtsontstekingen. Eén van de meest voorkomende vormen is Reumatoïde Artritis (RA). Onder de verzamelnaam ontstekingsreuma vallen ook systeemziekten, zoals bijvoorbeeld Akyloserende Spondylitis (de ziekte van Bechterew), Systemische Lupus Erythematosus (SLE), Sclerodermie, het syndroom van Sjögren en Mixed Connective Tissue Disease (MCTD).
Wanneer er een vermoeden is van een bepaalde vorm van reuma zijn er verschillende soorten bloedonderzoek mogelijk:
De reumafactortest
De reumafactor (RF) is een auto-antistof. Ongeveer 80% van de mensen met reumatoïde artritis heeft de reumafactor in het bloed. Dat betekent dat bij 20% van de mensen met reumatoïde artritis deze auto-antistof niet wordt gevonden, terwijl hun lichamelijke klachten wel bij deze aandoening passen. De reumafactor kan ook aantoonbaar zijn bij andere reumatische aandoeningen en bij infecties. De reumafactor is dus niet specifiek voor reumatoïde artritis.
De ANA of ANF test
Met de ANA of ANF test wordt onderzocht of uw afweersysteem antinucleaire antistoffen aanmaakt. Antinucleaire antistoffen zijn antistoffen die zijn gericht tegen onderdelen van de eigen celkern (nucleus). Het zijn dus auto-antistoffen.
Een positieve ANA-uitslag in combinatie met bepaalde lichamelijke klachten, kan een aanwijzing zijn dat uw klachten voortkomen uit een auto-immuunziekte als reumatoïde artritis. Maar er zijn ook andere auto-immuunziekten die een positieve ANA-uitslag kunnen geven, zoals SLE, het syndroom van Sjögren, sclerodermie en Mixed Connective Tissue Disease (MCTD).
ACPA of anti-CCP test
ACPA of anti-CCP is een auto-antistof tegen het lichaamseigen eiwit CCP. Als u een positieve uitslag op de anti-CCP test heeft in combinatie met gewrichtsontstekingen, dan is de kans dat er sprake is van reumatoïde artritis groot.
Herkent u bepaalde klachten, raadpleeg dan altijd uw arts en vraag welke van bovenstaande dan wel andere tests (zoals Bezinkingssnelheid test; HLA-B27 test; CRP test) in uw geval het meest toepasselijk is.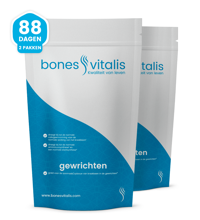 Bones Vitalis Gewrichten
Wat u zelf kunt doen bij ontstekingsreuma
Bindweefsel is weefsel dat bestaat uit vezels die krachten van het bewegen opvangen. Dit komt eigenlijk neer op al het weefsel in het lichaam. Structuren die vallen onder bindweefsel zijn onder meer, kraakbeen, spieren, pezen, gewrichtsbanden, gewrichtskapsel, gewrichtskraakbeen.
Eiwitten worden in al ons bindweefsel gevonden. Eiwitten bestaan uit aminozuren. In de natuur zijn ongeveer 500 verschillende aminozuren geïdentificeerd, waarvan een beperkt aantal in menselijke eiwitten voorkomt.
In vivo onderzoek uitgevoerd aan de universiteit van Rochester Medical Center (USA), bevestigt de unieke voordelen van specifieke aminozuren in ondersteuning van gezonde gewrichten door regeneratie van kraakbeen en zijn belangrijke anti-inflammatoire (ontstekingsremmende) werking [1], terwijl in andere studies is aangetoond dat de behandeling van artrose en reumatoïde artritis met aminozuren zeer effectief blijkt te zijn, die het bindweefsel ondersteunen en gezonde gewrichten bevorderen [2].
In diverse studies zijn de gunstige effecten van deze aminozuren bevestigd ter zake behoud van gezonde gewrichten en het verminderen van pijn [3] terwijl uit weer andere studies is gebleken dat deze aminozuren de aanmaak van nieuw kraakbeen bevorderen [4].
Meer weten over deze aminozuren…
[1] Voetnoot Studies
Dar Q.A. et al. 2014, Oral hydrolysed type I collagen induces chondroregeneration and inhabits synovial inflammation in murine posttraumatic osteoarthritis , Osteoarthritis and Cartilage. 24:5532-5533.
[2] Voetnoot Studies
Moskowitz, R., 2000. Role of collagen peptides in bone and joint disease. Seminars in Arthritis and Rheumatism, 30: 87-99.
Benito-Ruiz P. et al., 2009. A randomized controlled trial on the efficacy and safety of a food ingredient, collagen hydrolysate, for improving joint comfort. International Journal of Food Sciences and Nutrition, 60:99-113.
[3] Voetnoot Studies
Oesser, S. et al. (2003). Stimulation of Type II Collagen Biosynthesis and Secretion in Bovine Chandrocytes Cultured with Degraded Collagen. Cell Tissue Research, 311: 393-399.
Oesser, S., et al. (1999). Oral Administration of 14C Labelled Gelatine Hydroslysate… Journal of Nutrition, 129: 1891-1895.
Henrotin Y. et al., 2011. Nutraceuticals: do they represent a new era in the management of osteoarthritis? – a narrative review from the lessons taken five products. Osteoarthritis and Cartilage, 19: 1-21.
Ragle R.L. et al., 2012. Nutraceuticals in the management of osteoarthritis: a critical review. Drugs & Aging, 29: 717-731.
Clark, K.L. et al., 2008. 24-Week study on the use of collagen hydrolysate as a dietary supplement in athletes with activityrelated joint pain. Current Medical Research and Opinion, 24: 1485-1496.
[4] Voetnoot Studies
McAlindon 2011, Change in knee osteoarthritis cartilage detected by delayed gadolinium enhanced magnetic resonance imaging following treatment with collagen hydrolisate: a pilot randomized controlled trial.
Jiang, et al. 2014. Treatment of Knee Osteoarthritis: A Double-Blind Randomized, Placebo-Controlled Study. Agro Food Industry Hi Tech 25(2): 20–21. T.E.