Pijnlijke gewrichten in de overgang!
Vrouwen in en na de overgang hebben vaak last van hun gewrichten. Naast veranderingen in het menstruatiepatroon, nachtelijke transpiratie-aanvallen, opvliegers is dit de meest voorkomende klacht. Hormonale schommelingen spelen bij deze gewrichtsklachten een grote rol.
Door de hormonale veranderingen ontstaat er een ander evenwicht tussen opbouw en afbraak van het kraakbeen. Door een tekort aan het vrouwelijk hormoon oestrogeen – de aanmaak hiervan vermindert tijdens de overgang – wordt er minder collageen opgebouwd. Collageen is een lijmvormend eiwit in bindweefsel. Oestrogeen ondersteunt alle collageenstructuren; niet alleen de huid of spieren, maar ook de pezen, gewrichtskapsels, -gewrichtsbanden, en het gewrichtskraakbeen.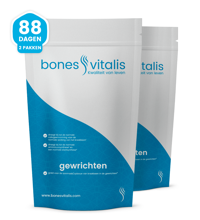 Bones Vitalis Gewrichten
Na de menopauze is de laag kraakbeen blijvend dunner, de smering minder en zijn de gewrichtsvlakken veranderd van vorm. Dit proces kan pijn geven of de beweging beperken. Kleine gewrichten geven het meeste last? Gewrichten in bijvoorbeeld handen, tenen, polsen en enkels kunnen dan pijnlijk aanvoelen, Maar ook in de schouders, knieën, rug en heupen kunt u klachten krijgen.
Tips…
Verminder stress, houd het lichaam warm. Neem af en toe een warm bad. Let op bij nachtzweten dat u niet te veel afkoelt en daardoor stijve spieren en gewrichten krijgt. Draag niet al te strakke kleding, Beweeg voldoende. Drink genoeg water. Er bestaan ook voedingssupplementen die speciaal ontwikkeld zijn voor uw gewrichten
.