Reumatoïde Artritis, Begeleiding en Advies Belangrijk
Reumatoïde Artritis (RA) is een chronische ziekte met als belangrijkste kenmerk ontstekingen in gewrichten. Zo'n ontsteking ontstaat doordat het eigen afweersysteem de gewrichten aanvalt. Het is een zogenaamde auto-immuunziekte. RA is een van de meest voorkomende reumatische ontstekingsziekte en komt voor bij ongeveer 1% van de Nederlandse bevolking (meer bij vrouwen dan bij mannen).
Wat zijn de klachten
Reumatoïde Artritis (RA) geeft ontstekingen, gekenmerkt door pijn, zwelling, stijfheid en functieverlies van de gewrichten. Functieverlies wil zeggen dat mensen met RA minder met hun gewrichten kunnen doen. Het betreft vooral de hand-, voet- en polsgewrichten, maar alle andere gewrichten kunnen ook worden aangedaan. Als gevolg van deze ontsteking kan op den duur ook beschadiging van het gewricht optreden. De ontstekingen zorgen voor dikke en pijnlijke gewrichten in de handen, voeten en knieën. Ook kunnen de gewrichten stijf zijn, vooral 's ochtends (ochtendstijfheid). Dit vermindert pas na een paar uur.
Daarnaast kan er sprake zijn van algemene klachten, zoals moeheid of een grieperig gevoel. De klachten kunnen constant zijn of erg wisselend.  Soms verdwijnen de verschijnselen een tijdje, om daarna plotseling weer de kop op te steken.
Het verloop van RA kan zeer verschillen tussen mensen. Met de huidige behandelingen is RA nog niet te genezen, maar het grootste deel van de klachten en beschadiging van gewrichten kan wel voorkomen worden. In de behandeling van RA is daarom een belangrijke rol weggelegd voor begeleiding en advies, waarbij vaak de fysiotherapeut, reumaverpleegkundige en/of maatschappelijk werk wordt ingeschakeld. Patiëntenverenigingen als het Reumafonds kunnen hierbij ook een grote steun zijn.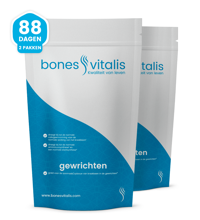 Bones Vitalis Gewrichten
Wat kunnen aminozuren betekenen
Een grote hoeveelheid wetenschappelijke studies bevestigt de werkzaamheid van aminozuren, die het bindweefsel ondersteunen en gezonde gewrichten bevorderen. Deze gegevens omvatten in-vitro, in vivo en meervoudige placebo-gecontroleerde klinische studies [1]. Uit studie, double-blind randomized, placebo-controlled, is voorts gebleken dat aminozuren de aanmaak van nieuw kraakbeen bevorderen [2].
Eiwitten worden in al ons bindweefsel gevonden. Zo zit het in onze gewrichten, het kraakbeen, en botten. Eiwitten bestaan uit aminozuren. In de natuur zijn ongeveer 500 verschillende aminozuren geïdentificeerd, waarvan een beperkt aantal in menselijke eiwitten voorkomt. Consumptie van uitgekiende aminozuurverbindingen, vitaminen, mineralen zal er voor zorgen dat ons lichaam volop wordt voorzien van bouwstenen, die goed zijn voor de aanmaak van kraakbeen (in de gewrichten), een rol spelen bij de botaanmaak en van belang zijn voor de normale vorming van bindweefsel in kraakbeen en botten (eiwitten/mangaan).
[1] Voetnoot Studies
Henrotin Y. et al., 2011. Nutraceuticals: do they represent a new era in the management of osteoarthritis? – a narrative review from the lessons taken five products. Osteoarthritis and Cartilage, 19: 1-21.
Moskowitz, R., 2000. Role of collagen hydrolysate in bone and joint disease. Seminars in Arthritis and Rheumatism, 30: 87-99.
Jiang, et al. 2014. Collagen Peptides for Treatment of Knee Osteoarthritis: A Double-Blind Randomized, Placebo-Controlled Study. Agro Food Industry Hi Tech 25(2): 20–21.
Van Vijven J.P.J. et al., 2012. Symptomatic and chondroprotective treatment with collagen derivatives in osteoarthritis: a systematic review. Osteoarthritis and Cartilage, 20: 809-821.
Ragle R.L. et al., 2012. Nutraceuticals in the management of osteoarthritis: a critical review. Drugs & Aging, 29: 717-731.
Benito-Ruiz P. et al., 2009. A randomized controlled trial on the efficacy and safety of a food ingredient, collagen hydrolysate, for improving joint comfort. International Journal of Food Sciences and Nutrition, 60:99-113.
Clark, K.L. et al., 2008. 24-Week study on the use of collagen hydrolysate as a dietary supplement in athletes with activityrelated joint pain. Current Medical Research and Opinion, 24: 1485-1496.
[2] Voetnoot Studies
Jiang, et al. 2014. Treatment of Knee Osteoarthritis: A Double-Blind Randomized, Placebo-Controlled Study. Agro Food Industry Hi Tech 25(2): 20–21.
T.E. McAlindon 2011, Change in knee osteoarthritis cartilage detected by delayed gadolinium enhanced magnetic resonance imaging following treatment with collagen hydrolisate: a pilot randomized controlled trial.