Frozen Shoulder… Hoe kom je er van af!
De frozen shoulder (stijfheid van het schoudergewricht) komt het meest voor bij mensen tussen de 40 en 70 jaar en vaker bij vrouwen. Wie last heeft van deze aandoening, krijgt te maken met bewegingsverlies in de schouder. Het verrichten van alledaagse activiteiten, zoals aankleden, bedden opmaken, strijken en koken, kunnen daardoor zwaar of zelfs onmogelijk worden.
De oorzaak van een frozen shoulder is niet altijd bekend, maar het heeft waarschijnlijk te maken met een onderliggend ontstekingsproces. Het kapsel rond het schoudergewricht wordt dikker en trekt samen. Doordat het kapsel niet genoeg lengte heeft kan de kop niet goed genoeg bewegen. Dit laat minder ruimte over voor de bovenarm om te bewegen. Normaal heeft slechts één schouder er last van, maar in ongeveer 1/3 van de gevallen is de beweging in beide armen beperkt.
Er zijn schouders die stijf worden zonder enige aanleiding (primaire frozen shoulder). Dit wordt vaker gezien bij suikerziekte en schildklierziekten. Er zijn situaties met een aanwijsbare oorzaak zoals na een botbreuk of andere schouderaandoening (bijv. na een slijmbeursontsteking) of na een periode van lange rust (immobilisatie). We spreken dan over een secundaire frozen schouder.
Na verloop van tijd treedt er geleidelijk herstel op van de beweeglijkheid van het schoudergewricht. Uiteindelijk kan de functie volledig herstellen. In sommige gevallen, doordat de spieren lange tijd niet worden gebruikt, kunnen blijvende bewegingsbeperkingen ontstaan. 6% van de mensen met frozen shoulder houdt ook na lange tijd nog ernstige klachten [1].
Hevige pijnklachten
De aandoening kent drie stadia die elkaar opvolgen. Een frozen shoulder begint meestal met de ontsteking van het gewrichtskapsel met hevige pijnklachten, de pijn verergert bij niet-bewegen en neemt 's nachts vaak toe. Dit kan leiden tot langdurige en ernstige slaapproblemen die het normaal functioneren overdag in grote mate kunnen belemmeren of zelfs onmogelijk maken (fase 1, duur 6 weken tot 9 maanden). Het volgend stadium wordt gekenmerkt door bewegingsbeperking, i.e. verstijving van de schouder. De pijn vermindert, maar de schouderfunctie raakt sterk beperkt (fase 2, duur 4 tot 9 maanden). In een later stadium nemen de pijn en de bewegingsbeperking weer af. De klachten lossen zich vrijwel altijd vanzelf op en er treedt geleidelijk herstel op van de beweeglijkheid van het schoudergewricht (fase 3: duur 5 tot 26 maanden).
Het is belangrijk om de schouder en arm binnen de pijngrens te bewegen. Fysiotherapie kan het herstel ondersteunen. De fysiotherapeut geeft oefeningen die aangepast zijn aan de verschillende fasen. Het blijkt namelijk dat de juiste vorm van oefeningen het herstel kan bevorderen [2]. Op deze manier worden behalve het schoudergewricht ook de omliggende gewrichten zo soepel mogelijk gehouden.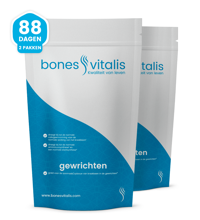 Bones Vitalis Gewrichten
Betekenis van aminozuren
Positieve resultaten worden behaald met het gebruik van aminozuren. In klinische studies is bevestigd dat een dagelijkse inname van ca. 8g aminozuren een positief effect had op gewrichtspijn reductie en de gewrichtsfunctionaliteit verbeterde [3]. In meerdere studies is voorts bevestigd dat de combinatie van genoemde aminozuren, degeneratie van het gewricht helpt te voorkomen en pijn helpt te verminderen [4].
[1] Voetnoot Studies
Hand C, Clipsham K, Rees JL, Carr AJ. Long-term outcome of frozen shoulder. J Shoulder Elbow Surg 2008;17:231-36.
[2] Voetnoot Studies
Dias R, Cutts S, Massoud S. Frozen Shoulder. BMJ 2005;331:1453-56.
[3] Voetnoot Studies
Jiang JX. et al. (2013). Treatment of knee osteoarthritis: A double-blind, randomized, placebo-controlled study. Agro FOOD Industry Hi Tech, Vol 25(2):19-23.
Benito-Ruiz P. et al., 2009. A randomized controlled trial on the efficacy and safety of a food ingredient, collagen peptides, for improving joint comfort. International Journal of Food Sciences and Nutrition, 60:99-113.
[4] Voetnoot Studies
Van Vijven, J.P.J. et al., 2012, Symptomatic and chondroprotective treatment with collagen derivatives in osteoarthritis: a systematic review, Osteoarthritis and Cartridge, 20(8): 809-821.
Ragle, R.L., and Sawitzke, A.D., 2012, Nutraceuticals in the management of osteoarthritis: a critical review, Drugs Aging, 29(9): 717–731.