Vrouwen… Drinken van melk van invloed op artrose!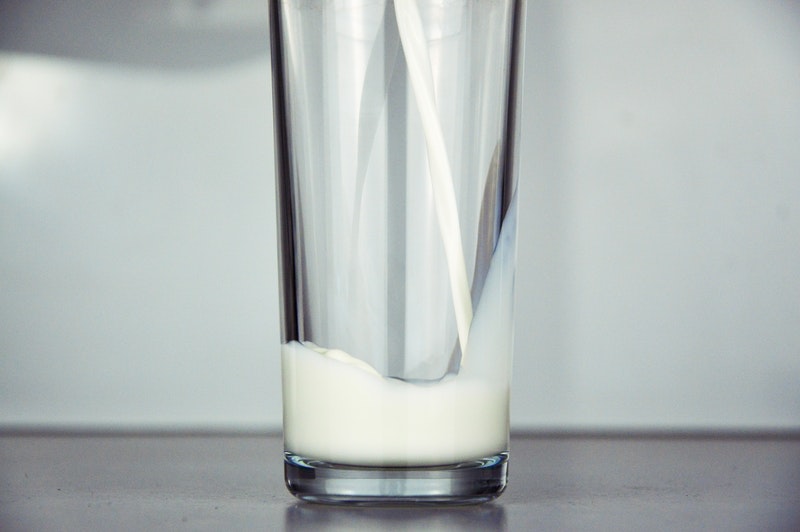 Artrose is een veelvoorkomende gewrichtsziekte. De meest voorkomende vorm van artrose is die van de knie (312.000 personen), gevolgd door heupartrose (238.000). Het komt vaker voor naarmate men ouder wordt en bijna twee keer zo veel vrouwen als mannen hebben er last van. Artrose wordt gekenmerkt door pijn tijdens bewegen. Het gewricht is vaak stijf na een tijdje rust. De stijfheid neemt af naarmate men het gewricht meer gebruikt. Artrose zal de komende jaren flink gaan toenemen ten gevolge van het ouder worden (vergrijzing), maar ook doordat (ernstig) overgewicht vaker voorkomt.
Uit een onderzoek naar het effect van het drinken van melk op de progressie van knieartrose blijkt dat wanneer vrouwen regelmatig melk drinken, het de voortgang van artrose in de knie vertraagt. In melk zit namelijk calcium, wat de botten en het kraakbeen kan versterken. Ditzelfde geldt voor het eten van kaas, maar bleek niet van toepassing te zijn bij de consumptie van yoghurt. De bevindingen van het onderzoek zijn gepubliceerd in het American College of Rheumatology [1].
Voor de studie werden 2148 deelnemers (3064 knieën) met knie artrose onderzocht. Aan het begin van de studie werden dieetgegevens verzameld en werden er meetmomenten met x-ray scans gefotografeerd om de progressie te evalueren. De meetmomenten vonden viermaal plaats in intervallen van 12 maanden. De onderzoeksgroep bestond uit 888 mannen en 1260 vrouwen.
Uit het onderzoek bleek dat wanneer de vrouwelijke patiënten minstens drie glazen melk per week gingen drinken er significant minder ruimte ontstond tussen het kniegewricht. Wanneer de vrouwen meer melk gingen drinken nam de gezondheidswinst toe van 0,38mm bij drie glazen per week, naar 0,29mm bij vier tot zes glazen tot 0,26mm bij zeven of meer glazen melk per week.  Dit wijst erop dat als vrouwen vaak melk drinken, dit de progressie van artrose kan verminderen.  Het onderzoek liet helaas geen verbeteringen zien van artrose bij de mannen uit de onderzoeksgroep,
Volgens hoofdonderzoeker dr. Bing Lu  is vervolgonderzoek onderzoek nodig naar het effect van melk op het afremmen en herstellen van knieartrose [1].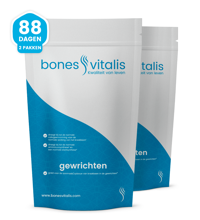 Bones Vitalis Gewrichten
Welke voedingsmiddelen zijn nog meer effectief?
Naast calcium zijn er meer voedingsmiddelen die effectief blijken te zijn bij de bestrijding van artrose.
Zo draagt koper in voeding bij tot instandhouding van normale bindweefsels waaronder bijvoorbeeld  Kraakbeen [2]. Vitamine C draagt bij tot collageenvorming voor de normale werking van het kraakbeen [3] terwijl mangaan in voedingsmiddelen goed is voor de aanmaak en opbouw van kraakbeen in onder meer de gewrichten [4].
In voeding zitten bovendien eiwitten. Eiwitten bestaan uit aminozuren. Bij de spijsvertering worden de aminozuren onder invloed van enzymen, uit voeding vrijgemaakt. In klinische studies is bevestigd dat een dagelijkse inname van uitgekiende aminozuren ontstekingsremmend werk, een positief effect had op gewrichtspijn reductie en de gewrichtsfunctionaliteit verbeterde [6], terwijl uit een andere studie is gebleken dat deze aminozuren de aanmaak van nieuw kraakbeen bevorderen [7].
De bovenstaande voedingsmiddelen zijn ook te verkrijgen als supplement. Voedingssupplementen worden als levensmiddel geclassificeerd. Ze hebben dan ook – afgezien van eventuele voedselallergie of voedselintolerantie – geen bijwerkingen. Lees meer over deze supplementen.
[1] Voetnoot Studies
Bing Lu, MD, Dr.PH, et al. Milk Consumption and Progression of Medial Tibiofemoral Knee Osteoarthritis: Data from the Osteoarthritis Initiative, Arthritis Care Res (Hoboken). 2014 Jun; 66(6): 802–809, doi: 10.1002/acr.22297.
[2] Voetnoot Studies
European Food Safety Authority (Efsa) Efsa Journal 2009: 7(9):1211. DOI: 10.2903/j.efsa.2009.1211.
[3] Voetnoot Studies
European Food Safety Authority (Efsa) Efsa Journal 2009:7(9):1226. DOI: 10.2903/j.efsa.2009.1226.
[4] Voetnoot Studies
European Food Safety Authority (Efsa) Efsa Journal 2010:8(10):1808. DOI: 10.2903/j.efsa.2010.1808.
[5] Voetnoot Studies
Dar Q.A. et al. 2014, Oral hydrolysed type I collagen induces chondroregeneration and inhabits synovial inflammation in murine posttraumatic osteoarthritis , Osteoarthritis and Cartilage. 24:5532-5533
[6] Voetnoot Studies
Jiang JX. et al. (2013). Treatment of knee osteoarthritis: A double-blind, randomized, placebo-controlled study. Agro FOOD Industry Hi Tech, Vol 25(2):19-23.
Benito-Ruiz P. et al., 2009. A randomized controlled trial on the efficacy and safety of a food ingredient,collagen hydrolysate, for improving joint comfort. International Journal of Food Sciences and Nutrition, 60:99-113.
[7] Voetnoot Studies
T.E. McAlindon 2011, Change in knee osteoarthritis cartilage detected by delayed gadolinium enhanced magnetic resonance imaging following treatment with collagen hydrolisate: a pilot randomized controlled trial.
Jiang, et al. 2014. Treatment of Knee Osteoarthritis: A Double-Blind Randomized, Placebo-Controlled Study. Agro Food Industry Hi Tech 25(2): 20–21