Wat zijn gewrichtsklachten?
Een gewricht is het 'scharnier' tussen twee botten. Soms raken het bot, kraakbeen of gewrichtskapsel geïrriteerd en dit geeft klachten. Gewrichtsklachten zijn bijvoorbeeld stijve en pijnlijke gewrichten. Bepaalde dagelijkse bewegingen zijn daardoor lastig of lukken niet meer zoals bijvoorbeeld het gebruik van een blikopener of het dragen van een boodschappentas. Het is niet altijd eenvoudig om exact aan te geven waar de pijn zit. Bij last aan het schoudergewricht bijvoorbeeld kan de pijn uitstralen naar de spieren van de bovenarm.
Ontstaan van gewrichtsklachten?
Gewrichtsklachten ontstaan in veel gevallen door overbelasting of artrose, en door ontsteking.
Overbelasting: overgewicht of vaak zwaar tillen kunnen knieklachten geven en herhalende bewegingen, bijvoorbeeld met een computermuis of elke dag veel typen, kan pols- of elleboogklachten veroorzaken. Vaak zijn daarbij niet alleen het gewricht, maar ook de spieren en pezen gevoelig.
Artrose: bij artrose ontstaat vaak pijn en stijfheid in de knie(ën) en de heup(en), aan de basis van de duim of aan de eindkootjes van de vingers. De klachten zijn het ergst als u bijvoorbeeld 's ochtends uw hand of knie voor het eerst weer beweegt (startpijn). De stijfheid vermindert meestal binnen het eerste halfuur dat er wordt bewogen. Vaak na tien minuten is er al sprake van een duidelijke verbetering. Bij intensief of langdurig bewegen kan de pijn weer terugkomen.
Ontsteking: is een gewricht stijf, pijnlijk, gezwollen en rood? Dan is er een gewrichtsontsteking. Voorbeelden hiervan zijn, een bacteriële gewrichtsontsteking; een reactieve gewrichtsontsteking of reumatoïde artritis (een vorm van reuma). Het is niet altijd meteen duidelijk  wat de oorzaak is van de klachten. In veel gevallen komt het voor dat de oorzaak van de gewrichtsklachten onbekend blijft.
Mochten de gewrichtsklachten hardnekkig zijn en blijven voortduren dan zou er sprake kunnen zijn van reumatoïde artritis (reuma). Die kans bestaat als u ook ontstekingsverschijnselen heeft, zoals gloeien en zwelling en de klachten langer dan 3 weken aanhouden. Maak dan een afspraak met uw huisarts.
Bones Vitalis Botten & Kraakbeen
Tips bij gewrichtsklachten
Probeer in beweging te blijven en breid de lichaamsbeweging stap voor stap uit. Samen met iemand bewegen (zwemmen, wandelen, fietsen, gymnastiek) werkt motiverend. Train de spieren rond een gewricht regelmatig. Deze worden zo sterker en niet stijf. Het kan nuttig zijn hierbij begeleiding te zoeken van een fysiotherapeut of oefentherapeut (Cesar of Mensendieck).
Bij overgewicht, probeer dan af te vallen, zodat de gewrichten minder worden belast. Zorg dus voor het goede gewicht en evenwichtige en gezonde voeding. Overgewicht zorgt voor extra druk op de gewrichten van knieën, rug, heupen, enkels en voeten. Door af te vallen naar een gezond gewicht, kunnen symptomen als pijn en stijfheid worden verlicht.
Kies voor voeding dat rijk is aan mineralen, vitaminen, oliën en antioxidanten. Zo is bekend, dat Omega3 vetzuren uit vette zeevis kunnen helpen bij het verminderen van ontstekingen en dat vitamine C bijdraagt tot het behoud van gezond kraakbeen.
Wat kunnen aminozuren betekenen
Consumptie van uitgekiende aminozuurverbindingen, vitaminen, mineralen zal er voor zorgen dat ons lichaam volop wordt voorzien van bouwstenen, die goed zijn voor de aanmaak van kraakbeen in de gewrichten, een rol spelen bij de botaanmaak en van belang zijn voor de normale vorming van bindweefsel in kraakbeen en botten (o.m. eiwitten/mangaan).
In de onderstaande klinische studies is bevestigd dat een dagelijkse inname van aminozuren (ca. 8g collageen peptiden), een positief effect had op gewrichtspijn reductie en de gewrichtsfunctionaliteit verbeterde [1}, terwijl uit andere studies is gebleken dat deze aminozuren de aanmaak van nieuw kraakbeen bevorderen [2].
Aminozuren zijn als voedingssupplement te verkrijgen. Voedingssupplementen worden als levensmiddel geclassificeerd. Ze hebben dan ook – afgezien van eventuele voedselallergie of voedselintolerantie – geen bijwerkingen.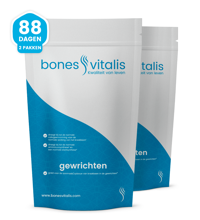 Bones Vitalis Gewrichten
[1] Voetnoot Studies
Ragle, R.L., and Sawitzke, A.D., 2012, Nutraceuticals in the management of osteoarthritis: a critical review, Drugs Aging, 29(9): 717–731.
Jiang JX. et al. (2013). Treatment of knee osteoarthritis: A double-blind, randomized, placebo-controlled study. Agro FOOD Industry Hi Tech, Vol 25(2):19-23.
Oesser, S. et al. (2003). Stimulation of Type II Collagen Biosynthesis and Secretion in Bovine Chandrocytes Cultured with Degraded Collagen. Cell Tissue Research, 311: 393-399.
[2] Voetnoot Studies
Jiang, et al. 2014. Treatment of Knee Osteoarthritis: A Double-Blind Randomized, Placebo-Controlled Study. Agro Food Industry Hi Tech 25(2): 20–21.
T.E. McAlindon 2011, Change in knee osteoarthritis cartilage detected by delayed gadolinium enhanced magnetic resonance imaging following treatment with collagen hydrolisate: a pilot randomized controlled trial.