Meer bewegen en afvallen goed bij heupslijtage
Patiënten met overgewicht die last hebben van slijtage van het heupgewricht (heupartrose) zijn gebaat bij behandeling die is gericht op beweging en afvallen. Ondanks dat internationale richtlijnen dit aanbevelen, krijgt slechts 10 procent van de patiënten deze behandeling voorgeschreven door de huisarts. Dit en meer blijkt uit UMCG-onderzoek [1] waarbij onder artrosepatiënten met overgewicht de effecten van een programma voor bewegen en afvallen zijn onderzocht voordat zij een heupoperatie zouden krijgen.
Het onderzoek heeft onder meer laten zien dat een gecombineerd beweeg- en afvalprogramma het lichamelijk functioneren van artrosepatiënten met overgewicht verbetert en pijnklachten vermindert. Er werd een verbetering gezien in het loopvermogen. Ook vielen de patiënten af. Ten opzichte van de start van het programma waren de deelnemers na 8 maanden gemiddeld 5,6 kg lichter en was hun lichaamsvet met 3,3% afgenomen. Het gecombineerde programma voor bewegen en afvallen biedt patiënten met heupartrose dus meer dan alleen pijnbestrijding.
Slijtage aan de heup (heupartrose) is beschadiging van het kraakbeen dat het gewrichtsoppervlak bedekt, De oorzaak van slijtage van de heup is meestal onbekend. De patiënt komt meestal na de middelbare leeftijd met klachten, maar de slijtage van het heupgewricht is dan vaak al 10 tot 20 jaar aan de gang. Vrouwen hebben over het algemeen het vaakst last van gewrichtsslijtage. Heupslijtage is de meest voorkomende en gevaarlijkste gewrichtsstoornis.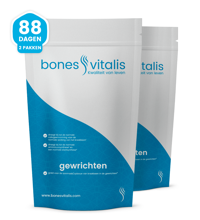 Bones Vitalis Gewrichten
Voorkomen heupslijtage
 De volgend stappen kunnen helpen om heupslijtage te voorkomen:
probeer goed te eten zodat het lichaam alle voedingsstoffen binnen krijgt die het nodig heeft. Een voedingspatroon dat rijk is aan eiwitten, mineralen, vitaminen, oliën en antioxidanten is belangrijk hierbij;
zorg voor het goede gewicht. Overgewicht verhoogt het risico op het ontwikkelen van artrose. Het dragen van extra gewicht verhoogt de stress op de gewrichten. Door af te vallen naar een gezond gewicht, kunnen symptomen als pijn en stijfheid worden verlicht;
veel studies tonen aan dat lichamelijke activiteit één van de beste manieren is om kwaliteit van leven te verbeteren. Lichte oefeningen waarbij de heupen niet hoeven te worden bewogen worden aangeraden, zoals wandelen, fietsen of zwemmen;
drink tenminste twee liter water per dag. Het is cruciaal dat het menselijk lichaam gehydrateerd blijft, omdat dit de gewrichten ook gehydrateerd houdt en zodoende dus het kraakbeen gevoed wordt. Kraakbeen beschermt de botstukken van een gewricht tegen beschadigingen en zorgt voor soepele, pijnvrije bewegingen.
Wat kunnen aminozuren betekenen
In voeding zitten eiwitten. Eiwitten bestaan uit aminozuren. Bij de spijsvertering worden de aminozuren onder invloed van enzymen, uit voeding vrijgemaakt.
In meerdere studies [2] is bevestigd dat de combinatie van specifieke aminozuren, degeneratie van het gewricht helpt te voorkomen en pijn helpt te verminderen, terwijl andere klinische studies  bevestigen dat een dagelijkse inname van ca. 8g aminozuurverbinding een positief effect had op gewrichtspijn reductie en de gewrichtsfunctionaliteit verbeterde.
Uit andere studies [3] is gebleken dat aminozuren de aanmaak van nieuw kraakbeen bevorderen.
Aminozuren zijn als voedingssupplement te verkrijgen. Voedingssupplementen worden als levensmiddel geclassificeerd.
[1] Voetnoot studies
Universitair Medisch Centrum Groningen (UMCG), N. Paans (2012). https://www.umcg.nl/NL/UMCG/Nieuws/Persberichten/Paginas/Meerbewegenenafvallengoedbijheupslijtage.aspx
[2] Voetnoten studies
Ragle, R.L., and Sawitzke, A.D., 2012, Nutraceuticals in the management of osteoarthritis: a critical review, Drugs Aging, 29(9): 717–731.
Van Vijven, J.P.J. et al., 2012, Symptomatic and chondroprotective treatment with collagen derivatives in osteoarthritis: a systematic review, Osteoarthritis and Cartridge, 20(8): 809-821.
Jiang JX. et al. (2013). Treatment of knee osteoarthritis: A double-blind, randomized, placebo-controlled study. Agro FOOD Industry Hi Tech, Vol 25(2):19-23.
Benito-Ruiz P. et al., 2009. A randomized controlled trial on the efficacy and safety of a food ingredient,collagen hydrolysate, for improving joint comfort. International Journal of Food Sciences and Nutrition, 60:99-113
[3] Voetnoten studies
Jiang, et al. 2014. Collagen Peptides for  Treatment of Knee Osteoarthritis: A Double-Blind Randomized, Placebo-Controlled Study. Agro Food Industry Hi Tech 25(2): 20–21.
T.E. McAlindon 2011, Change in knee osteoarthritis cartilage detected by delayed gadolinium enhanced magnetic resonance imaging following treatment with collagen hydrolisate: a pilot randomized controlled trial.