Onderzoek artrose… nieuw kraakbeen aanmaken!
In Nederland hebben ruim 1,2 miljoen mensen last van artrose. Deze aandoening gaat veelal gepaard met chronische gewrichtspijn. Activiteiten zoals lopen, autorijden en staan worden vaak lastig en pijnlijk. Het is dan ook niet zo opmerkelijk, dat vaak pijnstillers worden voorgeschreven aan mensen die lijden aan deze gewrichtsklachten.
Recent onderzoek (In vivo), mogelijk gemaakt door OsteoArthritis Research Society International (OARSI) en uitgevoerd aan de universiteit van Rochester Medical Center (USA), bevestigt de unieke voordelen van specifieke aminozuren in ondersteuning van gezonde gewrichten door regeneratie (vernieuwing) van kraakbeen en zijn belangrijke ontstekingsremmende werking¹.
OARSI is een vooraanstaande internationale organisatie voor wetenschappers en gezondheidswerkers gericht op preventie en behandeling van artrose via promotie, onderzoek, onderwijs en wereldwijde verspreiding van nieuwe kennis.
Ook uit andere studies is gebleken dat specifieke aminozuren de aanmaak van nieuw kraakbeen bevorderen. Een van deze studies, ook mogelijk gemaakt door OARSI, liet een toename van kraakbeen in de Aminozuren-groep zien (in knieën), tegen een afname van kraakbeen in de Placebogroep, dit alles gedurende een periode van 24 weken gedetailleerd in kaart gebracht met behulp van magnetische resonantie beelden².
Meer weten over deze aminozuren…
[1] Voetnoot studies
Dar Q.A. et al. 2014, Oral hydrolysed type I collagen induces chondroregeneration and inhabits synovial inflammation in murine posttraumatic osteoarthritis, Osteoarthritis and Cartilage. DOI: http://dx.doi.org/10.1016/j.joca.2016.01.976. Open access funded by OsteoArthritis Research Society International (OARSI).
[2] Voetnoot studies
T.E. McAlindon 2011, Change in knee osteoarthritis cartilage detected by delayed gadolinium enhanced magnetic resonance imaging following treatment with collagen hydrolisate: a pilot randomized controlled trial. 2011 Apr;19(4):399-405. doi: 10.1016/j.joca.2011.01.001. Epub 2011 Jan 18. Open access funded by OsteoArthritis Research Society International (OARSI).
Jiang, et al. 2014. Treatment of Knee Osteoarthritis: A Double-Blind Randomized, Placebo-Controlled Study. Agro Food Industry Hi Tech 25(2): 20–21.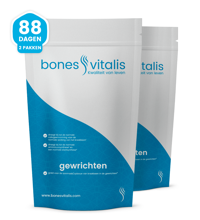 Bones Vitalis Gewrichten