4 tips voor de gewrichtsfunctie
Een gewricht is het 'scharnier' tussen twee botten. Als het bot, kraakbeen of gewrichtskapsel geïrriteerd raken geeft dit klachten, zoals:
het stijf of pijnlijk zijn van één of meer gewrichten;
lichaamsbewegingen die lastig gaan of niet meer lukken, zoals, wandelen, het openen van potten of het optillen van een doos.
moeite hebben met inslapen of wakker worden van de pijn.
De problematiek ontstaat door een verminderde aanmaak van gewrichtskraakbeen en treedt onder meer op bij het ouder worden. Er wordt minder kraakbeen aangemaakt dan dat er verloren gaat, waardoor er slijtage ontstaat. Door de slijtage en de verminderde aanmaak van schokabsorberende vloeistof kunnen botten langs elkaar heen schuren. Dit zorgt ervoor dat gewrichten als handen, knieën, schouders, nek en heupen pijnlijk kunnen aanvoelen.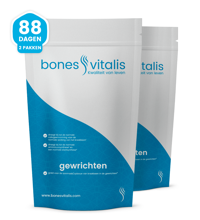 Bones Vitalis Gewrichten
1. Blijf bewegen
Belangrijk is dat u actief blijft om zo de spieren en pezen flexibel te houden. Veel studies tonen aan dat lichamelijke activiteit één van de beste manieren is om uw kwaliteit van leven te verbeteren. Beweging is dan ook cruciaal om gewrichtspijn te kunnen beheersen. Ga bijvoorbeeld fietsen, wandelen of zwemmen, zo versterkt u de spieren rondom de aangetaste gewrichten
2. Voeding
Een evenwichtige en gezonde voeding is belangrijk voor een gezond lichaam. Een voedingspatroon dat rijk is aan mineralen, vitaminen, oliën en antioxidanten is belangrijk hierbij. Zo is bekend, dat Omega3 vetzuren uit vette zeevis kunnen helpen bij het verminderen van ontstekingen en dat vitamine C bijdraagt tot het behoud van gezond kraakbeen.
3. Zorg voor het goede gewicht en een goede nachtrust
Zorg voor het goede gewicht en een goede nachtrust. Overgewicht verhoogt het risico op het ontwikkelen van artrose, met name knieartrose. Het dragen van extra gewicht verhoogt de stress op de gewrichten. Overgewicht zorgt voor extra druk op de gewrichten van uw knieën, rug, heupen, enkels en voeten. Door af te vallen naar een gezond gewicht, kunnen symptomen als pijn en stijfheid worden verlicht. Bij gewrichtspijn is een goede nachtrust belangrijk. Probeer in een comfortabele positie te liggen en leg zo nodig een kussen onder het pijnlijke gewricht.
4. Aminozuren
Consumptie van uitgekiende aminozuurverbindingen, vitaminen, mineralen zal er voor zorgen dat ons lichaam volop wordt voorzien van bouwstenen, die goed zijn voor de aanmaak van kraakbeen (in de gewrichten), een rol spelen bij de botaanmaak en van belang zijn voor de normale vorming van bindweefsel in kraakbeen en botten (eiwitten/mangaan). In de onderstaande klinische studies is bevestigd dat een dagelijkse inname van specifieke aminozuren, een positief effect had op gewrichtspijn reductie en de gewrichtsfunctionaliteit verbeterde:
Ragle, R.L., and Sawitzke, A.D., 2012, Nutraceuticals in the management of osteoarthritis: a critical review, Drugs Aging, 29(9): 717–731.
Jiang JX. et al. (2013). Treatment of knee osteoarthritis: A double-blind, randomized, placebo-controlled study. Agro FOOD Industry Hi Tech, Vol 25(2):19-23.
Oesser, S. et al. (2003). Stimulation of Type II Collagen Biosynthesis and Secretion in Bovine Chandrocytes Cultured with Degraded Collagen. Cell Tissue Research, 311: 393-399.
Aminozuren zijn als voedingssupplement te verkrijgen. Voedingssupplementen worden als levensmiddel geclassificeerd. Ze hebben dan ook – afgezien van eventuele voedselallergie of voedselintolerantie – geen bijwerkingen.