Wat onvoldoende geweten wordt bij reuma…
De reuma patiënt heeft onvoldoende kennis naar de ziekte, dit blijkt uit een wereldwijze anonieme enquête onder reuma patiënten. De enquête [1] is uitgevoerd door Harris Interactive in 42 landen; er deden 10.171 reumatoïde artritis (RA) patiënten mee. In Nederland namen 449 RA-patiënten deel aan de enquête. De resultaten uit het onderzoek concludeerde een kenniskloof tussen wat patiënten mogelijk weten over RA en hoe zij hun ziekte kunnen managen.
Zo bleek uit de resultaten van de enquête dat 63% van de Nederlandse patiënten denkt de ziekte onder controle te hebben zodra zij geen pijn ervaren, terwijl dit niet het geval is. Ook is gebleken dat in Nederland slechts 34% een behandelplan heeft gemaakt, terwijl 85% het ermee eens is dat dit essentieel is om het ziekteverloop onder controle te houden.
Een andere conclusie is dat patiënten die meer betrokken zijn bij de RA-gemeenschap door bijvoorbeeld een lidmaatschap van een patiëntenorganisatie of contact met andere patiënten meestal meer weten over RA [1].
Uit een langdurig onderzoek naar het geestelijk welbevinden van reuma patiënten. uitgevoerd door Promovendus Roos Arends van het onderzoeksinstituut IGS van de Universiteit Twente [2], blijkt dat een derde van de reuma patiënten op lange termijn niet goed kan leven met reuma. Zij kampen met angst, depressieve klachten, of het gevoel dat hun leven niet zinvol is.
Reuma is een verzamelnaam voor meerdere reumatische aandoeningen Met de huidige behandelingen zijn reumatische aandoeningen nog niet te genezen, maar een deel van de klachten en beschadiging van gewrichten kan wel voorkomen worden. Bij de behandeling is daarom een belangrijke rol weggelegd voor begeleiding en advies, waarbij vaak de fysiotherapeut, reumaverpleegkundige en/of maatschappelijk werk wordt ingeschakeld. Patiëntenverenigingen als het Reumafonds kunnen hierbij ook een grote steun zijn.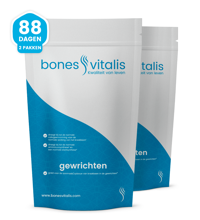 Bones Vitalis Gewrichten
Wat onvoldoende geweten wordt bij reuma?
Mensen met reuma ervaren in dagelijks leven vaak beperkingen door pijn, stijfheid en moeheid. Emoties als boosheid, stress, angst en verdriet gaan hier meestal mee gepaard. Er bestaat nog veel onbegrip voor de emoties en beperkingen die gepaard gaan met reumatische aandoeningen. Terwijl begrip en steun juist essentieel zijn voor het goed kunnen omgaan met reuma.
In vivo onderzoek uitgevoerd aan de universiteit van Rochester Medical Center (USA), bevestigt de unieke voordelen van aminozuren in ondersteuning van gezonde gewrichten door regeneratie van kraakbeen en zijn belangrijke anti-inflammatoire (ontstekingsremmende) werking [3].
Een aantal recente studies [4] toont aan dat de behandeling van artrose en reumatoïde artritis met aminozuren zeer effectief blijkt te zijn. die het bindweefsel ondersteunen en gezonde gewrichten bevorderen, terwijl in meerdere studies is bevestigd dat de combinatie van specifieke aminozuren, degeneratie van het gewricht helpt te voorkomen en pijn helpt te verminderen [5].
[1] Voetnoot Studies
http://www.abbvie.co.uk/content/dam/abbviecorp/uk/docs/press-releases/june-2013-GLOBAL-SURVEY-OF-RHEUMATOID-ARTHRITIS-PATIENTS-SHOWS-PA.pdf. RA: Join the Fight
[2] Voetnoot Studies
Arends R. et al., 2015. Studie naar mentaal welbevinden van reumapatiënten. Vakgroep Psychologie, Gezondheid en Technologie van onderzoeksinstituut IGS van de Universiteit Twente.
[3] Voetnoot Studies
Dar Q.A. et al. 2014, Oral hydrolysed type I collagen induces chondroregeneration and inhabits synovial inflammation in murine posttraumatic osteoarthritis, Osteoarthritis and Cartilage. 24:5532-5533.
 [4] Voetnoot Studies
T.E. McAlindon 2011, Change in knee osteoarthritis cartilage detected by delayed gadolinium enhanced magnetic resonance imaging following treatment with collagen peptides: a pilot randomized controlled trial.
Moskowitz, R., 2000. Role of collagen peptides in bone and joint disease. Seminars in Arthritis and Rheumatism, 30: 87-99.
[5] Voetnoot Studies
Van Vijven, J.P.J. et al., 2012, Symptomatic and chondroprotective treatment with collagen derivatives in osteoarthritis: a systematic review, Osteoarthritis and Cartridge, 20(8): 809-821.
Ragle, R.L., and Sawitzke, A.D., 2012, Nutraceuticals in the management of osteoarthritis: a critical review, Drugs Aging, 29(9): 717–731.